Hey everyone. Well it;s Thursday payday and lot's of errands to do today.
I have to work till 11 pm tonight so i am going to be one tired women tonight. I am hoping today goes fast. Oh and it's the last day of February all ready.? Were did the time go.? It went by to quickly. But that's ok i am ready for spring. We did get a dust of snow last night and it is snowing a little bit now.
Well, I am linking up with
" Three things Thursday"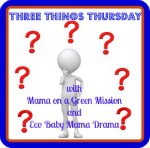 Must have purse Items:
1.) Tylenol
2.) Lip Balm
3.)Lotion
Quirks that make me me.:
1.) I eat with my left hand even though i am a right handed.
2.) I can't sleep at night unless i have something on like a TV. I need something i don't like the quietness at night. Don't know why.
3.) I like bright colors. Of course I have a Yellow car. lol.
Favorite Drinks:
1.) Pepsi- I have to have Pepsi in the house at all times. lol
2.) A&W. The best root-beer out there.
3.) Vernons Ginger- ale - The only Ginger-ale that i like to drink.
Hope you have a great day everyone. :)