Hello everyone and happy Thursday. Oh and happy Valentine's Day! :) Hope everyone can spend the day with your sweetie.
So yesterday i had this craving or eggs, bacon,and fried potatoes. So that's what i had for lunch,and supper. lol I was sure satisfied after i ate that. Must of been a protein kick craving. Well it was good, Today i haven't had the craving for that.
I am hoping that when he get's home we are gonna have a little movie in at home, With are new TV are surround sound is pretty awesome. :) we love it. Were suppose to anyway. So we will see how that goes.
Well, I am linking up with a new link up called three things Thursday. I kinda just saw this on another blog and thought it looked liked fun. So i am gonna go back to week 1 and get caught up with this link.It looks interesting to do. So here is
Three Things Thursday
.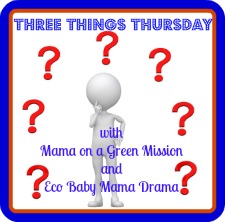 Week One:
Favorite TV Shows :
1.Bones
2.Family Guy
3.Switched at birth
Any Piercings:
1. Just 1 in both ears
2. Used to have 2 wholes in both ears but top ones closed.
3.was thinking about getting nosed pierced but i didn't want to after trying the magnetic nose rings. lol.
Places I want to visit:
1.Grand Canyon
2.Washington D.C.
3. Alaska
Week two:
Favorite Foods:
1.Shrimp
2.Sweets
3. Qausadieas
Any Tattoos:
No. but would like to get one some day.
Dream jobs:
1.Scientist Forensic
2. photographer
3.Nurse
Week three:
Places I like to Shop:
1.Walmart
2. Biglots
3. Target
Things i wished i did before my kids:
Do not have kids.
Dream Car:
1. KIA Sportage
2.Ford Mustang
3.Chevy Comero
Week four:
Pet's and names?Could be pets from the past.
1.Cocoa- dog
2.Fluffy -cat
3. Precious- cat
Favorite colors:
1.Red
2.Yellow
3.Pink
Favorite zoo animals?
1. Kangaroos
2.Zebra's
3. Flamingo's
Week Five:
Favorite Places to eat out:
1. Red lobster
2. Applebee's
3 Cheddar's
Least favorite household chores:
1. Dishes
2. Laundry
3.Sweeping
Favorite kids TV shows.
Well I don't have kids but we watch kid shows in this house. were a kid at heart still. :) lol
1. Sponge bob
2.Fairy God Parents
3. Victorious
and finally week six:
First three dates with Hubby:
Well were not married yet but will be next year. So my first three dates with my boyfriend are:
1.Movie
2.Golden Carol
3 Went to Kingwood center.
Three things about hubby that i love:
For me it's three things i love about my boyfriend.
1.His love- he loves me for me and excepts who i am.
2.His heart-he has such kind hart and i love it.
3.The little tiny things he does everyday that makes me happy.
Three Romantic things that hubby has done:
Three romantic things boyfriend has done:
1.Proposed to me at applebee's last December and brought me a ring.
2.Bought me flowers and a new movie i wanted.
3.Bought me a cake one time when i was craving something sweet.