Happy evening everyone. Well what a long day it has been. We left at 8 pm this morning and got home at 7 pm. i am pretty worn out but i am gonna be going to bed here early before to long.
So we went to the Air Force Museum in Dayton,Ohio. It was a lot of fun.We didn't get to see all of it today but enough till we go back in the summer. So here are some photos that i took today there.
So there are a few photos that i took at the museum there's a lot more but didn't want to put all of them in here, lol .
It's time to link up with Sunday social with Ashley Lately .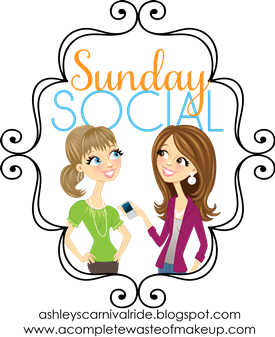 1. What was your first car.?
My first car was a Chevy Aveo.
2.Who was your favorite childhood teacher.?
My favorite teacher was my music teacher named Mrs. Gorsauch. She was a great teacher and gave everyone a chance to sing. she didn't choose the same people every time which was pretty cool.She was a awesome teacher.
3.Were you involved in any sports or extracurricular activities.?
In 5th grade i used to play basketball and was pretty good.Went to a contest for making so many baskets. I was also in choir and band i also, took drama club one year. lol those were the days.
4.What was your favorite birthday party.?
Favorite birthday party would have to be when i was 5 or 6 i think. i had a lot of my friends from school came over and we had a party that my mom sat up for me. It was fun. :)
5.Who was your teen celebrity crush.?
My celebrity crush was Johnathan Taylor Thomas.
6.
What show/movie did your parent's not allow you to watch.?
Wasn't allowed to watch r rated movies until i was 17 i think.
Next is the 30 day challenge day 19
If you can live anywhere where would it be and why.?
I would love to live out west. I always wanted to live there after visiting Missouri one year. It's so beautiful out there. I would just love it.