Hello everyone.! Hope all is well.
Well I did not have a great day today. Well we will just start off from this morning. I have a cold,and when i woke up this morning i had two bloody noses. So i had to call work to tell them i am gonna be a little late to my client's house and told them i had a bloody nose. I was only 5 min late. so it wasn't to bad. I also had the shake's last night so i hope that is over with.
Next, My oil light to check my oil light came on. So my future father in law is going to do my oil change for me for free. I Just had to buy the oil and the oil filter.
So, i was heading hone from my 5 p-9 p and my car was making a loud sound didn't know what it was until i got home. My tire looked like it got slashed. When i was at my clients house. So i had to call Tripple A to come put my spare on, so tomorrow i am gonna have to go to Walmart and get a tire.
So i had one big lousy day today. I am hoping tomorrow will be good one. My h&r block called me and said they had something or me so i am hoping for my refund. that would be perfect. :)
Well, I hope everyone had a great Valentine's Day yesterday. My sweetie got me a movie that i wanted.
Hotel Transylvania
and a game for are Wii called
Tournament Bowling.
So i got what i wanted. :)
It's time for my Friday link-ups. So i hope you enjoy. !
First up is
Friday Fill In the blank.
1. Warmth
is what i long to feel
.
2.
I love to hear the
ocean
weaves
3. Wondering
about my day tomorrow.
4
.Would love to go on
vacation.
5.What in the world
is this world coming to.?
6.I
had enough
snow.
7.And as or this weekend tonight i am looking forward to
a goodnight sleep
,tomorrow my plans include
getting my oil change and work
,and Sunday i want to
relax and hope the work day goes well.
Next link-up is
Friday Four Fill In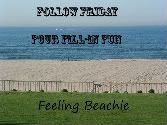 1
.Sometime's I want to scream at stupid driver's
but that is why
i do my counting and breath Technics so i won't get to mad at them. lol
2.All I
want
for
everyone
is
peace and happiness.
3.I
am a great listener
therefor
my friends want me to listen to their problems which is OK with me.
4. McDonald's
is were my boyfriend works
and
that is why we don't eat there/
Hope everyone has a great night. ! :)