Hello everyone. Well, i hope you all are having a great weekend. Well, not much going on lately. Just work,work,work. I am looking forward to Tuesday my day off. Yippies. one more day to go.
So, Next Sunday i'm hoping to plan on going to another bridal show in wooster,ohio. So i am looking forward for a day out with my maid of honor and my boyfriend. So i am hoping for next weekend off. ! i should though.
So it's time for Sunday social. So i am linking up with Ashley Carnival Ride for Sunday Social.
1/20/13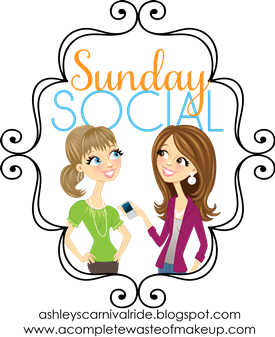 1. Top 3 favorite kinds of food.
2. First 3 things you do in the morning
3. Last 3 things you do at night
4. 3 TV shows you never miss
5. 3 places you want to visit
6. 3 people you can always count on
Have a great Sunday everyone. hope you have a great day. :)