Happy Sunday. Hope all is well and your weekend is going great. well what's left of it anyway. Well, It's about supper time and on a roll to see what i want to make. i think i might make some fish,but we will see.
Well, we just got home from grocery shopping. i hate grocery shopping. when you are hungry it's the worst time to go beacuase you buy more then you expect too. lol
So next Sunday I am hoping to go up north to wooster to the bridal thing up in wooster. It should be my weekend off but i am hoping. I want to get some ideas. My maide o honor will be coming with me and i hope my mother will too. Trying to get some ideas. Gonna be some fun. Looking forward to planning. Lot's to do.
Well, I am going to link up with Sunday Social 1/6/13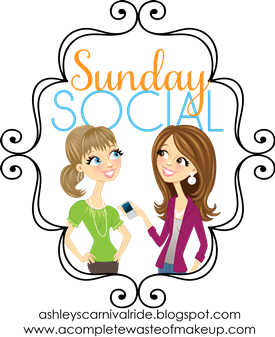 1. Do you plan to change any of your eating habits in the new year?
No. I Don't plan too. Ill just eat what i want to for now.
2. Any workout tips to get us back in shape after the Holidays?
I just walk normally.
3. What is your favorite thing you did over the Holidays?
Spend time with family and friends.
4. What is something you hope that you accomplish in 2013 that you did not in 2012?
Umm...... I don't know. lol ill think about it.
5. Name 3 things happening this year you are excited about and why.
1.) Planning my wedding for next year.
2.)Family functions.
3.)Vacation
Well, I hope you all have a great evening and i am gonna start making dinner. have a great evening.