Hello and happy Friday!!!! I am so thankful for having the weekend off.Well we got some more snow today. Hope it's the last of it. So we will see. Suppose to stop at 5 pm. so i am hoping.
Well, I am looking forward to Sunday for another bridal show. gonna be fun with my m.o.h. and my boyfriend. I bought my garter. It was at Patcantans for 1.97$ and red to boost so who could pass up that deal.?
Well I am hoping to have a great weekend. my boyfriend brought some Rum so i know what he wants to do this weekend, Strawberry dacteries here i come .lol
So since it is Friday i am linking up with 5 Friday questions. So here are today's 5 Friday questions.
5 Friday question's 1/25/2013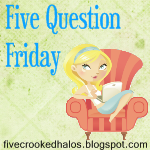 1. D
o you embrace or dread snow/cold weather days?
I Dread the cold weather and snow. I wish there was 70 degree's all year round.
2. Which g
ame show or reality show could you totally win?
Wheel of Fortune, I am a great puzzle player i would do really well. :)
3.
What is your preferred climate?
Perfect climate would be 70 degrees,tropical paradise.
4.
What do you buy every time you walk into the grocery store, no matter what?
I buy Pizza all the time. We love pizza so we have to have it in the house. lol
5. I
f you see a spider/bug in the house, are you brave enough to kill it, or do you call for your hubby?
If it's a spider i call my boyfriend to come kill it. i would be on the bed or the chair screaming spider!!!!!!!!!!!!!!. lol . bug i can kill though. :)
Well, i hope everyone has a great
Friday
.! :)