Hello. Well, today has been a good day. Seemed like a long day though. Well, one more day then it's going to be payday again. yippies. lol. Saving money for wedding is pretty fun. I think i may buy some decorations for the wedding and a few other items that i saw at walmart that were pretty resonable. So i am having fun just planning and looking at wedding items.
So, as i was looking/going threw music for the wedding i found a few so far that i put on my list for the pre ceromony before eveything get's started. So here is what i came up with for right now.
Somewhere over the rainbow
A whole new world
Amazaing grace
Beacause you love me
From this moment
I do
Love story
Unchanined melody
When god made you
You raise me up
Battle hymn of the republic
God must of spent alittle more time on you
The way you are
I also have a song that i am walking down the aisle to. I just love this song and i know it's popular from the twilght breaking dawn but it's the song that i am going to walk down too.Christnia Perri's
" A Thousand Years"
Yep that's the song. :)
So i am still going therew more songs and i can't wait to see what all new songs that come out this year, But i may go with the old school music,and what we like to listen too. So i am looking forward to picking out more songs.
Well, I made some homemade cinamon bread the other day and it was so good.my boyfriiend told me to make some more, so i am gonna have to make some more here sometime here soon. Here is the recipie that i used for the bread.
Homemade Cinnamon Bread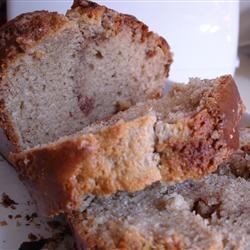 Ingredients
Directions
Preheat oven to 350 degrees F (175 degrees C). Grease one 9x5 inch loaf pan.

Measure flour, 1 cup sugar, baking powder, baking soda, 1 1/2 teaspoons cinnamon, salt, buttermilk, oil, eggs and vanilla into large mixing bowl. Beat 3 minutes. Pour into prepared loaf pan. Smooth top.

Combine 2 tablespoons white sugar, 1 teaspoon cinnamon and butter, mixing until crumbly. Sprinkle topping over smoothed batter. Using knife, cut in a light swirling motion to give a marbled effect.

Bake for about 50 minutes. Test with toothpick. When inserted it should come out clean. Remove bread from pan to rack to cool.
Well I hope everyone has a great night time to go to bed for me. gotta get up early to go to work in the morning. Night everyone.