Hello everyone. happy wedensday. Hope all is well for you guys. Work went ok today.went pretty fast though i thought which made it ok.
So i got hungry when i got home from work today so i made some crosonts. they were good. i haven't had them in along while so i decided to make them and out them in the oven.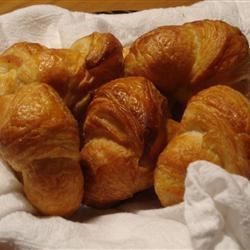 1
/4 teaspoons
active dry yeast
Directions
Combine yeast, warm water, and 1 teaspoon sugar. Allow to stand until creamy and frothy.
Measure flour into a mixing bowl. Dissolve 2 teaspoons sugar and salt in warm milk. Blend into flour along with yeast and oil. Mix well; knead until smooth. Cover, and let rise until over triple in volume. Deflate gently, and let rise again until doubled. Deflate and chill 20 minutes.
Massage butter until pliable, but not soft and oily. Pat dough into a 14 x 8 inch rectangle. Smear butter over top two thirds, leaving 1/4 inch margin all around. Fold unbuttered third over middle third, and buttered top third down over that. Turn 90 degrees, so that folds are to left and right. Roll out to a 14 x 6 inch rectangle. Fold in three again. Sprinkle lightly with flour, and put dough in a plastic bag. Refrigerate 2 hours. Unwrap, sprinkle with flour, and deflate gently. Roll to a 14 x 6 inch rectangle, and fold again. Turn 90 degrees, and repeat. Wrap, and chill 2 hours.
To shape, roll dough out to a 20 x 5 inch rectangle. Cut in half crosswise, and chill half while shaping the other half. Roll out to a 15 x 5 inch rectangle. Cut into three 5 x 5 inch squares. Cut each square in half diagonally. Roll each triangle lightly to elongate the point, and make it 7 inches long. Grab the other 2 points, and stretch them out slightly as you roll it up. Place on a baking sheet, curving slightly. Let shaped croissants rise until puffy and light. In a small bowl, beat together egg and 1 tablespoon water. Glaze croissants with egg wash.
Bake in a preheated 475 degrees F (245 degrees C) oven for 12 to 15 minutes.
So, that was my crossonit recipiee. and they turned out great. :)
I also am also in the progress of making peanut butter cookies. so here is the recipie that i made a few minutes ago. here it is.
Peanut Butter cookies.!
Ingredients
1 cup sugar, 1/4 cup additional to roll

cookies

1 stick butter, at room temperature

1 egg

1 cup smooth peanut butter

1 teaspoon

vanilla

1/2 teaspoon salt

1/2 teaspoon baking soda

1 1/2 cups flour
Directions
Preheat oven to 375 degrees.
Grease
a baking sheet. In a large bowl, cream together sugar and butter. Beat in egg to mixture. Mix in
peanut butter
and vanilla until smooth and creamy. Stir in salt,
baking soda
and flour until well combined. Roll dough into 1 inch balls and then roll in sugar. Place on baking sheet and flatten with fork. Bake for 12-15 minutes.
So yep I have a sweet tooth today but i am going to make dinner about 5 or 6p tonight. hmmm maybe chicken thighs.? that sounds pretty good i think. I am just a little hungry today haven't had much to eat today. so that could be why i guess. lol
Well tomorrow i have a short day at work so that's pretty good. i do get to sleep in tomorrow morning. so i am happy with that. :) then i have to go pick up my schedual and paycheck so i am excited about that its payday. :) Not quite sure what we are doing tomorrow but he wants to do something after we get done with work. so we shall see.
We were playing are wii last night and it was fun. i think we might play some tonight and are sega that we have too. he got a few more games for the sega so we gotta try them to see i they work.
Well, since it's wedensday i am going to do some qoutes for wedensday. so here they are. ! enjoy.
Bible verses: