Hello everyone. Hope all is well. Happy Friday everyone. So i am hoping this weekend goes by quick. i am ready for my day off on Tuesday. Looking forward to it too. been working since Sunday. So ill be deffenitly ready for Tuesday/
Well not too much has gone on lately. i did get a great compliment from one of my client's today.She was telling everyone how well i was taking care of her,I am such a great cook,and i would like to have her all the time. So that made my day today. It was pretty great. :)
So I am linking up with 5 question Friday today.
1/18/13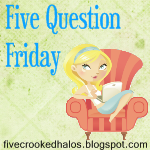 1.
If you were going to be stuck on a deserted island, which 5 books, movies, people and foods would you take along?
I would take twilight books series,10 things i hate about you,she's the man.dear john,letter's to Juliet, the vow. Boyfriend,parents,friends,brothers,and sisters. Italian food, Mexican food,Chinese food,Potatoes,and cookies i guess. lol
2. W
hat is your thought on year round school?
I think it's wrong because kids need a break from school and need time to spend with family on holidays.
3. What is your most embarrassing potty story? (Can't be one of your kids' potty stories either!) Hee Hee! This cracks me up and stems from a HILARIOUS twitter conversation...
Well, one time at work i was going to the bathroom and i thought i locked the door.Well turns out i didn't lock it that well and someone came in on me. it was embarrassing at the time but funny afterwords. lol
4.

What's the temperature where you are?
It is only 16 degrees outside.
5. Are you a winter/spring/fall/summer person?
I am a spring and summer person. Love the warm weather.:)