Hey everyone.! Well I've been working third shift the last couple night's so i am about half here and half not. lol. I am going to be going to bed right after blogging today. Working third shift this weekend. I also already worked 8am to 1pm today. So yippies. I am already beat. My sleeping schedule is off and idk what i am gonna do with my self next week. I get 3 days off I work this weekend and 3 days out of the week since i am working third shift this week.
So as of this week no wonder why i am so worn out and so tired. Since Monday and after tonight i will be working 51.50 hours. Holy Moly. !!!!!!!!! NO wonder right. ? So i am looking forward to just myself and a few days with my girls. so i am gonna be a happy women with those many days off. lol.
So yea that night when the bridal registerey called us and told us that we won something.? Well it was a complete scam. They wanted us to buy things in order to get the free stuff. So since i had to work third that night we just left about 7:30p so i could get to work. i was like let's just leave now. You had to buy pans, knives, glass wear,dishes,or something in order to get something free. It felt like sitting and watching a commercial on tv when he was talking about the cookware on and on and on about it. It seemed like forever. So yea we were disappointed but we have a year to save up for a honeymoon so we are just going to that and go on a little close to home honeymoon. so nothing free won. Total scam.
Well i am linking up with 5 Friday Questions: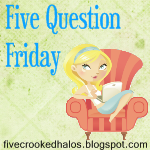 1. W
hat is your next home improvement goal?
Well next thing that needs done in are apartment is are kitchen cupboard that they have to replace one because the door handle came off.
2.
If you could only read one book for the rest of your life, what would it be?
No religious texts (ie Bible, Quran, Torah, etc, etc)...
I would pick the Bible.
3.
What is on top of your refrigerator?
We have are
vegetable
oil,and drink mixes for are drinks.
4. W
hat are your favorite or most used phone apps?
My favorite phone app would have to be my
Facebook
app.
5. W
hat's the one thing you hate most about your spouses job?
Well my boyfriend
h
e smells like
McDonald's
when he get's home from work. lol