It's Friday you y'all. Time to celebrate.!!! :) I was looking forward to this weekend so much. I am going to have fun and enjoy myself.
So i had to work today till one. It wasn't too bad. I was suppose to have the day off but
it was worth picking up the extra hours. My morning client's missed so much. They were so happy to see me. they both gave me a big hug. My one lady told me i had to call the office about every day to report someone and i complained and i want and told them i wanted you back. lol i thought that was funny.
So Monday i work first shift till 9:30pm then i work third the whole weekend. Hoping i get next weekend off for my nephew's graduation party and the weekend but i will find out Thursday. I have 57 hours this week. I' am getting worn out. but i have liked the paychecks. they were pretty sweet.
Well i have about 9 hours till i go pick up my boyfriend from work. So i have to get my shower, get things back in the car and get a few hours of sleep before i head to Columbus in the morning. gotta leave at 5:30am. Early but there shouldn't be too much traffic. I am hoping at that time.
I am linking up with 5 question Friday. for this Friday. So here are today's 5 question's .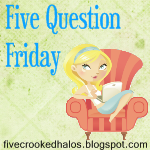 1. D
o you wake before the alarm or stay in bed until the last possible second?
I sometimes stay in bed till the last possible second.
2.
Who should get a baby shower? Is it just the first baby or all babies?
I think if you have a baby girl and a baby boy then after that you should have not a baby shower.
3.
How will you spend Memorial Day?
Unfortunalty I have to work so i won't be doing too much except work.
4.
Do you have a Storm/Hurricane/Tornado/Fire plan for your kids, house..?
Yes I have one.
5. What is your favorite morning drink?
I love to have Orange Juice for my morning drink or coffee.