Happy Friday everyone ! Well i have been up for 24 hours today. I worked 8p to 8a last night and then when i got off work i went out and hung out with my friend Cindy. We had a good time. Went to a few stores and then i went to my mom's to give her her presents for mother's day. Had a good chat and was nice to visit.
So i have 2 weeks to decide. I get to go to the Columbus office Friday to check it out and meet the people that work down there. So i am looking forward to that then that will help me decide if i want to take the job, But i am thinking on taking it anyway, So i am looking to going to the office and checking it out.
Well i am linking up with 5 Friday Question's and here are today's question's..... 5/10/13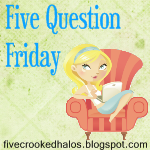 1.
What's the one personal hygiene thing you will not do in front of your spouse?
I will not brush my teeth in front of my boyfriend i don't like to have him watch me spit after i brush my teeth. yuck.
2.
What's your favorite thing about a newborn?
Everything. there so cute.
3. W
hen is "too young" to have a Facebook account?
When your in
elementary/middle
school.
4.
What are your hoping for for Mother's Day?
That my mom has a great mother's day.
5. What was the best field trip you ever took in school?
Oh boy i guess it would have to be when we went to cosi in 5th grade. It was fun.