Hey everyone. Hope you all are having a great day. ! :) Well i am pretty tuckered out but i am still on the go. Especially tomorrow is going to be a really busy day for me. I work 8am to 1pm then i gotta head up to Mansfield to pay off my dresses and they are wanting me to try it on again. So that will take a bit. Then i gotta be back in town by 4:30pm and work till 9:30pm. So my break is going to be busy but it will be wroth it. last payment.! :)
I finally get a decent week of work this week. Ya. I work this weekend, get off at 1pm on Monday got a few errands and places to go Monday, Tuesday i am off might hang out with my friend Heather and her husband not sure yet, Wednesday i work from 8am-9pm, Thursday 8a-1p, and Friday 8am-9pm.So not to shabby this week. I am pretty happy with it. Can't complain on this one. :)
Well i am linking up with Follow Friday Four. So here are the Four Follow Fill ins. four this Friday.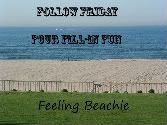 4-19-13
1.) I hate
when my alarm clock goes off at 7:30am and i know that I have to get up to get ready for work.
2.) I used to love playing
Bingo
as a kid.
3.)Common sense says
don't eat that it has to many calories
but i tend to
eat it anyway because it tastes so good.
4.) Once I was surprised to find myself
that if i slept alot i tend to be more tired then when i sleep less.?