My best new yrs is propbaly when i went to my sister's new yrs eve party at her college dorm party. that was pretty fun. i normally work but i had the two days off last yr. it was a fun party. lol
Hello everyone and hope you are having a great weekend. ! Well, today we went shopping and enjoyed are selfs. went to his parents house. Yesterday we went to a pizza place in westerville,ohio it was really good. i think it was called mushroom pizza place or something like that for his brother's bday dinner. sure was good pizza. yum.
So not much doing today. just enjoying my weekened off. Loving it so far. :) I can't believe that today is half over already. wow. were did the time go? thinking about taking a nap and then make some supper. It's going to be mexican night here at are house tonight. yum. plus a pb pie homemade by me. yum. my favorite.
Well, I am going to link up with Ashley's carnival ride with Sunday Social. 12/30/2012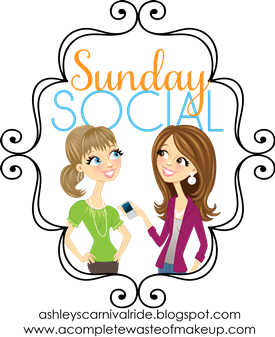 1. What is the best New Years Eve you've ever had?
Last yr when i was at my sister's college dorm party for new yrs.hehe, it was fun.
2. Are you doing anything for NYE this year and if so what?
Hanging out with my boyfriend and just relaxing. can't stay up all night though since i have to work in the morning.
3. Name a book we should all read come January?
I don't know i haven't read any lately.
4. What are your new years resolutions?
I want to loose more weight,and try to cook some more food then just going out all the time to eat. it's nice for awhile but it does get alittle pricy at times.
So i hope you all have a great evening. Time to make supper and pie. yum. lol.