Hello everyone and happy Sunday. Hope everyone had an awsome weekend! I sure did. it went buy fast but, it was a great one.
So are last night of the play went well. we had 30 groups and all were 20 people in each group so thats really good. it went buy fast but i am glad its over. :).
Well, I go in and start some more paper work tomorrow at my new job and hope get a schedual for the week. I have 4 days left at west view. sure gonna go by fast. Gonna miss all of my co-workers that i worked with and we grew a friendship bond. but we still have facebook,and text messaging.So we wont be to ar away from that.
So since today is Sunday I am going to link up with Sunday Social with "Ashley's carnival ride".So here we go! :)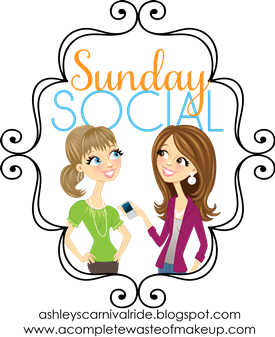 1. Favorite Holiday Movies/TV Specials?
Ok,My favorite tv holiday movies would have to be "Holiday in handcuffs""Miricle on 34th street""the christmas card""Frosty snowman"
Also would like to watch on tv the CMA. Country Christmas. Awsome show!!!
2. Do you do any volunteering during the holidays if so what? If not what would you do?
Sadley,no i don't but i hope to start doing some volunteering here some time in the near future.
3. Favorite toy received as a child for the holidays?
I got an easy bake oven and loved making things with it. it was some fun times. even my mother played with me when i was little with it. :)
4. What was your must have item in high school for the holidays?
I had to have new clothes during the holiday!
5. Item you begged for the most and never got?
Ummm. I dont think anything. i was happy with what i got.
6. What do you do on Christmas Eve? If you are Jewish what does your family do for Hanukkah?
Well,
we usually would watch christmas movies,and open one present each. then wait and wake up early for the next day!!! :)
Well, hope you are having a great evening, time to clean house and get ready for bed.! Night everyone.! :)