Hello everyone and happy sunday! Well, work went by fast today. at first i didn't think it would but it sure did after i got started. But yet a women's job is never done. I need to clean house today.Definitly needs my touch. i neglected it for a week so its about time to do so.
So, I am going to start doing my christmas shopping this week. i am going to be hanging out with my friend kayla on thursday and my friend cindy on friday to go shopping and just have some fun. i am looking forward to spending time with them and shopping. can't go over my budget though.
Well, I may take a little nap today sometime but for now i am going to link up with "Ashley carnival ride for sunday social."
"Sunday Social" 12/16/2012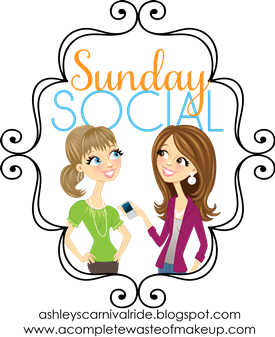 1. What is the wallpaper on your cell phone?
I curently have flowers and sparkles on my phone for wallpaper right now.
2. What do you keep beside your bed?
I keep my phone,tylonal,and a glass of water.
3. What is your least favorite chore?
My least favorite chore is dusting.
4. If you could eliminate one thing from your daily routine, what would it be?
I wish that i don't have to get out of bed in the mornings.
5. What do you do to vent anger?
I usually talk to one of my friends, write about it,talk to my boyfriend.
6. What is your favorite holiday of the year and why?
My favorite holiday of the year is the fouth of July,beacause it's in the summer and i love the fireworks.
Well,i hope you all have a great day.