Hi everyone.! Another Sunday here and gone already. Wow. I tell ya each day is going faster and faster and pretty soon we are changing are clocks again. We spring forward, so time will probably go by faster yet.
So today going in to work at a clients house i saw 2 helicopters going to are hospital this afternoon.There musta been a couple people life lighted and i hope they are ok. Then I saw 6 cops out today on the road. So this town was pretty busy today. lol.
I am linking up with Ashley Lately with Sunday Social
Sunday Social 3/3/2013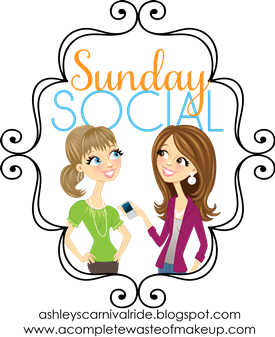 1. 5 songs you'll listen to the rest of your life.
1.) Don't you wanna stay here a little while.-Kelly Clarkson and Jason Aladene
2.)

You belong with me-Taylor Swift
3.) Rolling In the Deep- Adele
4.) I Cross My Heart- George Straight
5.) Christina Perri- A Thousand Years
2.) 5 things on your bucket list.
5.Go to a Ohio State Football game
3.) 5 Celebs that you would love to hang out with.
4.) 5 things you always carry in your purse.
5.) 5 books on your reading list.
Well I don't have time to read so i don't know what new books are out there anymore,
6.) share the last five pictures on your phone.
Hockey Game
Wedding dress
Well I hope everyone has a great night. Gotta get to bed. Work early tomorrow. Night. ! :)