Hello everyone and happy Friday! I am thankful that today is finally Friday. Not much going on today. Enjoying the day and just relaxing.
Well I start working first shift this week. 8 to 4 So i am not used to getting off that early but i was ok. sleeping has to be going on the right track again. So that might take a while. Next week i am 8 to 4 with a little bit to 8 to 7 during the last two days off the week for paper work.
Well it's Friday so I am linking up with " My Little Life" with 5 Friday Question's and this weeks questions are. :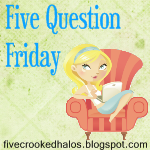 1.
What is one thing you have too many of in your house?
mmm i think it would have to be paper plates. I have a lot of them. lol
2.
Did anything go not quite as planned on your wedding day?
No
because
i am not getting married yet.
3.
What is your favorite summer smoothie recipe?
I ususally just chop in strawberry's and some sugar and make a strawberry smoothie and maybe i might put in some rum.
4. What is the weather like where you are?
It's sunny 94
degrees
. Just got done raining and storming.
5. What is your favorite book to read to your kids?
Well i don't have any kids yet.