Hello everyone and happy TGIF. I am so glad that it's the weekend. It's gone by so fast that i some how forgot about a day this week. Not helping with working third i get my days mixed up any hows.
So good news i start my job this week. I am so excited i can't wait. Back to normal hours. yea. lol. i am looking forward to that. hip hip hoary.
Well, I am linking up with My little Life for Five Question Friday. So Here are this week's questions.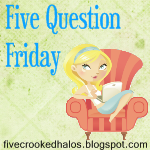 1. W
ould you rather pay for house cleaner or spa day?
I would pay for a day at the spa rather then housekeeping
because
i have to clean myself i have to have my things in a
certain
spot and if someone cleans my house then i won't know where things are and that will
frustrate
me. lol
2. W
ho plans what gifts you get for holidays, you or your spouse?
Well i am not married so i have to get the gifts when the time comes.
3.
How many hours of sleep do you get? Do you need more?
Depends on the day and what i have been working.Sometimes i am up for 24 hours or more so sometimes it feels like i need more.
4.
Do you like your hair long or short?
I like my hair short. It's so much easier to take care off. Sometimes i miss my long hair but having my short hair makes me look older.
5. When was the last time you were pulled over and what was it for?
It's been a long time ago. I was pulled over one time
because
my head lights weren't on but i didn't get a ticket or anything. just a warning. Haven't been pulled over since. i think it was back in 2006.