Hello everyone. Well I am overdue on blogging. I took a little break. I need to get back in the swing of things. Well in a couple of weeks more like 13 days something wonderful is going to happen but that's a secret for now. i am looking forward to sharing it. Only a few people know and i can't wait to tell all of ya.! :)
I am going to link up with Acting Balance with Fill in the Blank Friday,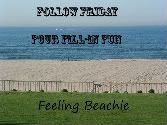 1.) I hate it when i
Get in bed and i forget to turn the light off.
2.) I sometimes long for
A recess cup.
3.) Thinking about
Winter coming
makes me
sad.
4.) My favorite day this week so far was probably
Monday
because
it was just a great day. :)
I hope you all have a great day! :)